The New REDI Site
Earlier this year, we were fortunate enough to win an RFP to work with Rockville Economic Development Inc. (REDI), a wonderful group that needed a redesign of their website.
The Goal
The project goal: create a dynamic, easy to navigate, accessible website to increase awareness, enhance their reputation and that of the City of Rockville, highlight the services they provide, and communicate to businesses, entrepreneurs, commercial brokers and residents the benefits of locating & growing a business in Rockville, MD.
The Existing Site
Their existing site had been launched a number of years ago.  The top of the home page looked like this.  (click to enlarge)  And, believe me, you could scroll down for miles!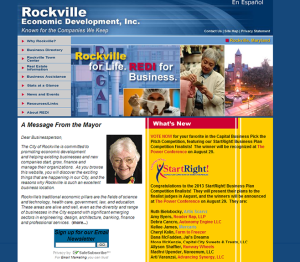 Here's a screenshot of the About page. (click to enlarge)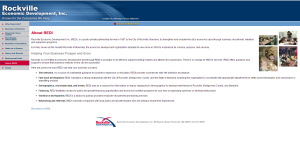 And here's a shot of one of the information pages. (click to enlarge)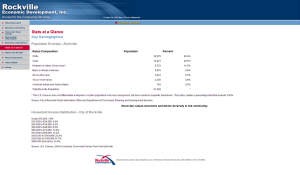 In addition to the site needing a visual upgrade, it also wasn't mobile-friendly.
A New Site is Born
Vince and I immediately had some ideas and we brought them to the table as we engaged the REDI group in a full brainstorming, mapping, and design process.  And we couldn't be happier with the result!
Screenshot of the new Home Page.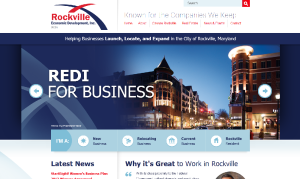 We came up with a new way to present the staff and their bios.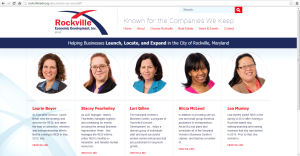 Replacing numerous individual stat pages, we created a single clearinghouse page where the user can access all statistics.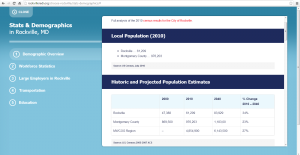 Likewise, we came up with a strategy to display all of the Local, State, and Federal incentives.  As the user hovers over the incentive name, its details appear in the right pane.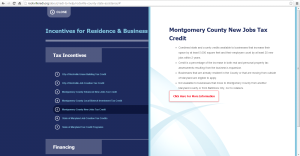 REDI offers its users several lists of companies in select categories.  We came up with a system that allow the user to choose the Company Type (in the upper right) and scroll through the list online.  They can also download each in PDF format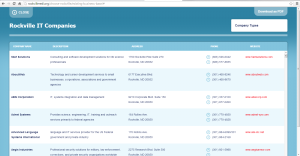 We included a site search tool.  This next screenshot is the results page.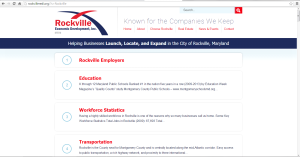 There's a blog post section that can categorize Latest News, Press Releases, Video, etc.  If desired, it will also feed highlight posts to the Home page.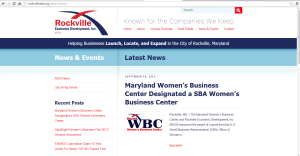 There's an event calendar.  (screenshot here is an individual event page)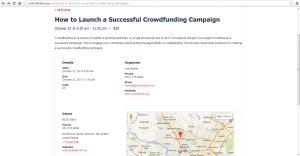 You may have noticed on the Home page that there are four self-classification areas.  They are New Business, Relocating Business, Current Business, and Rockville Resident and if the user decides to 'self-classify' as one of these categories, he'll arrive on a page with more-targeted content.  Example below.  On the back-end, we made it easy for the REDI staff to classify all of their content as being for one or more of these audiences.  Pretty neat!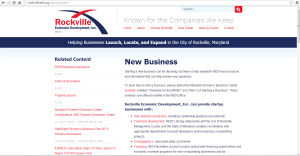 The Future
Now that we've launched, we're looking forward to receiving feedback, tracking the analytics, and seeing how well the new site is received by users.  We're definitely optimistic!