Bowl America owns and operates 17 bowling alleys in Virginia, Maryland, and Florida. Previously, they used two websites: bowl-america.com and bowlingparties.com. The goal for this project was to design and develop a new single site that would work for their corporate needs, their bowling party business, and for each of their individual locations.
We built a fully custom, responsive WordPress theme that worked exactly for their content.
There's a lot of cool functionality on the site, but the one thing we hadn't done before is the party booking form. You access this through one of the locations pages.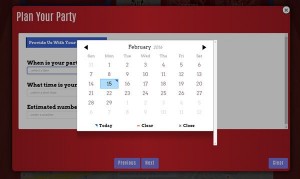 Check out the full site at www.bowl-america.com